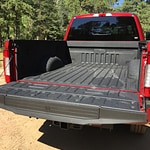 If you rely on your truck for more than just commuting or occasional use, you need a durable truck that is going to last through the toughest jobs. The Ford Super Duty is that kind of pickup. It was made to create immense horsepower and to resist tension that other truck models would otherwise declare defeat with. Best in class ratings in many areas have allowed Ford Super Duty trucks to maintain this reputation.
The Ford Super Duty conventional truck offers the best towing available in its class. Leading the way for others to follow, this pickup can tow up to 21,000 pounds with its best gasoline engine and up to 24,200 pounds with its diesel engine configuration. A frame comprised of high-strength steel helps this truck maintain its capabilities, as well.
Maintaining its status as a true powerhouse, the Ford Super Duty can pull even more with its fifth-wheel towing setup. This truck can tow 37,000 pounds in a gooseneck trailer, which makes hauling livestock or large campers a fun pastime.