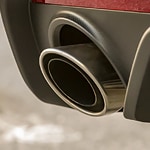 No Worries

So you have considered purchasing a new Ford Mustang. You love the Mustang's power punches and sleek, polished finish. But you have concerns about its loud, aggressive exhaust tone. Worry no more!

We at McGovern Ford of Framingham have in our showroom and at our dealership's lot the most up-to-date Ford Mustang models equipped with the four-mode Active Performance Exhaust Audio System.

How are the Modes Used?

The modes get set at one of the four sound levels based on the driver's discretion. It is preferable to set the Mustangs Exhaust Audio mode at the lowest sound level in the early morning or late-night hours to the Quiet mode. You can use the Normal mode during the day as you complete your driving chores.

The Sports mode requires evening time scheduling hours since it gives an extra boost to the Mustang's operator on their way home from a hustling-bustling day. Track mode goes hand in hand with the freedom of the open track, where the Mustang's engine can dominate the sound waves.