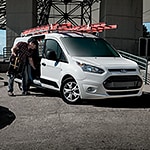 When you're driving down Framingham streets, sudden starts and stops are part of the journey. In such unexpected situations, you need to do everything to keep yourself safe. The Ford Transit Connect is a passenger wagon that features smart technology designed to keep your passengers secure.
Sometimes, other vehicles and passengers can seem to appear out of nowhere. When this happens, it is easy to be startled. If you're behind the wheel of a Transit Connect, you'll hear an alert chime and see a warning sign on your dashboard before you have a collision.
At McGovern Ford of Framingham, we're excited to report that the Transit Connect does more than warns you of an impending collision; it can help prevent one by strategically increasing the power of your brakes. If you aren't applying the brakes yourself, it can even apply them for you.